The Kerb-Konus biography
1946
Kerb-Konus-Vertriebs-GmbH is founded in Bielefeld

1949

The company is relocated to Schnaittenbach

1951

Acquisition of the American license for ENSAT

1959

Move into the first company-owned premises

1970

Construction of a new factory for the company's own production in Amberg

1974

The administration and sales departments move into a new company building at Liebengrabenweg in Amberg

1982

A plant is opened in Hadamar/Hessen

1984

Opening of the Sales Office in Osaka/Japan
KKV AG is founded in Alterndorf/Switzerland as a joint venture

1985

Foundation of KKE in Alcorcon (Madrid) Spain

1986

40-year company jubilee
Foundation of Precision Fasteners Inc. in USA
Foundation of Sofrafix in France

1989

Foundation of KKV Belgium in Vilvoorde/Belgium

1990

The joint venture Kerb-Konus-Fasteners Pvt. Ltd. is launched in Kolhapur/India

1992

Construction work starts on a new company location at Wernher-von-Braun-Straße in the industrial estate to the north of the town

1994

Certified to ISO 9001

1995

Foundation of Kerb Konus UK in England

1996

50-year company jubilee

2004

Foundation subsidiary Kerb-Konus Italy s.r.l.

2006

60-year company jubilee

2007

Certified to ISO 14001

2015

Certified to ISO 50001



The first decade: 1946



Just under a year after the end of the war, the company Kerb-Konus-Vertriebs-GmbH was founded on the initiative of Dr. Carl H. Eibes in Bielefield, with a view to establishing a foothold in what was then the British zone of occupation. Three years later, business activity was relocated to Schnaittenbach and then later to Amberg.




Schnaittenbach - Dr.-Carl-Eibes-Straße

to the top



The Ensat:



Through the acquisition of an American license, the company was now able to launch into the sale of self-tapping threaded inserts under the brand name "Ensat".



to the top



The company moves into its own production facilities



Up until 1959, Kerb-Konus-Vertriebs-GmbH operated from leased premises. When, ten years later, the company had also grown too large for the premises it had established in Schnaittenbach, the entire operation moved into a new plant in Amberg in 1970. It was now possible for Kerb-Konus to launch its own production and further development for threaded inserts. At the same time, the company substantially increased its product range to include threaded inserts for plastics and thin-walled moldings, and also acquired licenses for the coating of screws and studs with plastics and micro-encapsulated adhesives.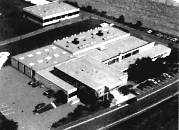 Amberg - Liebengrabenweg 11

to the top



A healthy company



In 1974, the entire company including the administrative and sales department moved into the premises at Liebengrabenweg in Amberg. A period of general economic recession saw the launch of a whole new chapter in the company's history. Kerb-Konus switched to a totally new mode of operation in both the production and administrative sectors. A new sales concept involving the use of electronic data processing was developed, the company's own field sales service established, as well as new marketing and advertising strategies were implemented. The production area was almost doubled during 1984. The company succeeded in automating a large portion of its production processes, while continuing to offer increased employment – a concept which has proven highly successful



to the top

By 1992, the company exceeded 200 employees, and the existing facilities were no longer adequate to accommodate its growing needs. After a careful and laborious planning phase, a construction project was launched at a new location in the Industriegebiet Nord. The industrial estate to the north of the town was intended to double the existing area available for both production and administration.

On December 18, 1992, production at the current location was discontinued, and the move into the new premises got under way. On January 11, 1993 the company was fully ready to resume operation in the completed first phase of the new building complex at Wernher-von-Braun-Straße.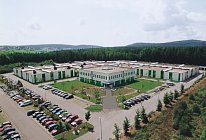 Amberg - Industriegebiet Nord - Wernher-von-Braun-Straße 7

to the top

In the company's jubilee year 1996, work started on the second building phase, laying the foundations for continued positive development and growth.



to the top